Welcome!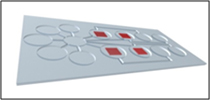 I welcome you to the multi-phase flow & heat transfer laboratory in the Department of Mechanical Engineering at Texas A&M University. This website gives an overview of the ongoing research activities at the multi-phase flows and heat transfer laboratory.
Research projects are highly interdisciplinary and intellectually rewarding. Projects range from energy conversion (conventional and renewable energy technologies / solar-thermal energy storage, molten salts), micro-fluidics, boiling heat transfer (thermal management, energy conservation), nanotechnology (nanofluids, nanosynthesis), Bio-MEMS and marine robotics. We are looking forward to diversifying our research activities over the years.
I strongly urge prospective students to go through the website to gain an idea of the scope and diversity of ongoing research endeavors at the lab. Working in the multi-phase lab is highly challenging. We aim to develop new technologies and scale new heights and invite highly self-motivated students to join us on this exciting journey. Due to the large number of emails received from prospective students, a reply may be slow in forthcoming. Your patience in this regard is appreciated.
Potential collaborators/sponsors are encouraged to contact us to explore mutually beneficial collaboration opportunities. Contact information may be found in the contacts section.
Any feedback either positive or otherwise, regarding the content and/or presentation of material on this website is highly appreciated. We look forward to work with you!
-Debjyoti Banerjee, Ph.D.
| | |
| --- | --- |
| "We are glad to acknowledge the generous financial support from 3M Foundation through the 3M Non-Tenured Faculty Grant (2008-2011)" | |